Camping: Spring STEM Camp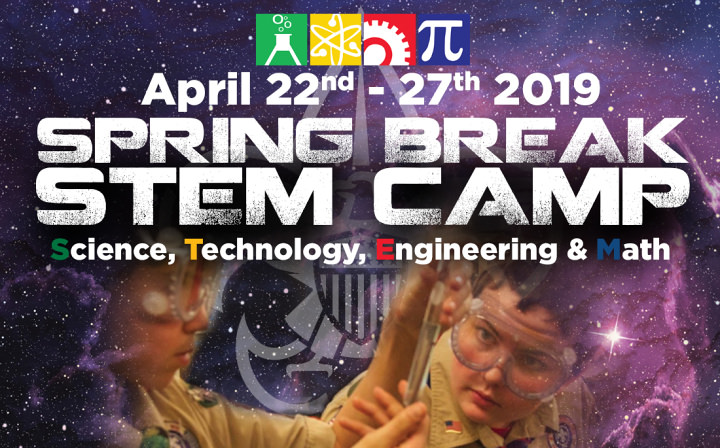 THE GNYC STEM SUBCOMMITTEE WELCOMES YOU TO "SPRING BREAK STEM CAMP" HERE IN GNYC.
DURING THE SPRING BREAK WEEK, SCOUTS WISHING TO KEEP THEIR BRAINS IN HIGH GEAR AND POSSIBLY EARN ONE OF THE NOVA AWARDS CAN COME TO STEM CAMP.
BEGINNING MONDAY THE 22ND AT 12PM CHECK-IN AND ENDING AT 10 AM ON SATURDAY THE 27TH WITH GRADUATION. UP TO 40 YOUTH FROM HERE IN GNYC CAN COME CHALLENGE THEMSELVES AND WORK WITH OTHERS AS OUR STAFF OF ENERGIZED IN HOUSE STAFF AND A CADRE OF OUTSIDE PROFESSIONALS INTRODUCE THEM TO A VARIETY OF SCIENCE, TECHNOLOGY, ENGINEERING AND MATH. SOME MERIT BADGES WILL BE AVAILABLE (Like Composite Materials, Weather, Emergency Prep,
GUEST PRESENTERS WILL BE ON HAND IN A VARIETY OF SCIENTIFIC, TECHNOLOGY AND RELATED
FIELDS. SOME OF OUR PAST YEARS PRESENTERS INCLUDED THE LAMONT DOUGHERTY EARTH OBSERVATORY, THE NJ CIVIL AIR PATROL, NJ STATE POLICE AVIATION, AMATUER ASTRONOMERS, KINGS COUNTY RE- PEATERS AND STERLING HILLS MINES.
WE ARE EXCITED ABOUT THIS YEARS LINE-UP AND HOPE TO SEE YOU THERE.
THE COST FOR THIS EVENT IS $350 AND COVERS ROOM, MEALS, FUN, TRIP AND SUPPLIES. BUT IS ONLY OPEN TO THE FIRST 40 YOUTH TO APPLY.
REGISTRATION WILL BE ONLINE THROUGH THE COUNCIL WEBSITE.
https://www.bsa-gnyc.org/stemspringbreak
FOR MORE INFORMATION CONTACT SHAWN SPENCER OF THE CONSERVATION, OUTDOOR ETHICS & STEM COMMITTEE AT CUBPACK255@HOTMAIL.COM OR DONNIE COLLINS OF THE STEM SUB- COMM AT DONNIESCOLLINS@GMAIL.COM