Bronx Trek-O-Ree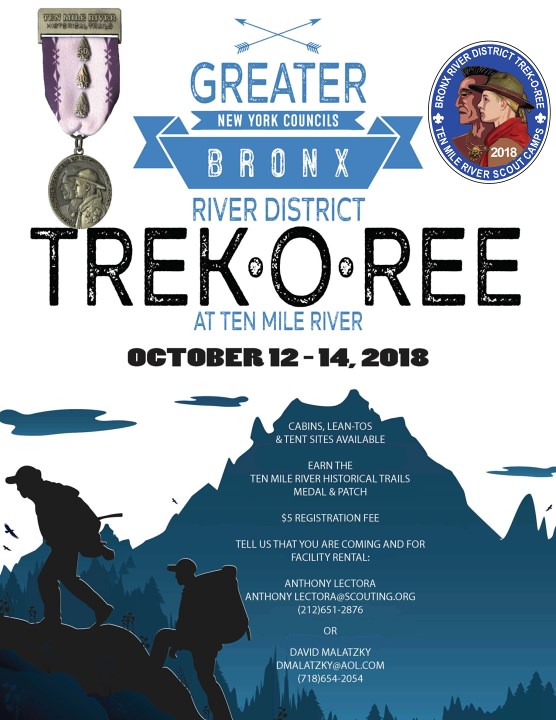 Date/Time:
Oct 12, 2018 6:00 pm to Oct 14, 2018 10:00 am
Location:
Ten Mile River Scout Camps
1481 Crystal Lake Road
Narrowsburg, NY 12764
Location Phone: (845) 252-2000

Bronx River District is organizing the first Trek-O-Ree in the 91-year history of the Ten Mile
River Scout Camps and the first for Bronx Troops in over 20 years. Participants satisfying the award requirements will be able to earn the beautiful Ten Mile River Historical Trails medal and patch. The registration fee is only $5 per person, which includes a Trek-O-Ree patch.
CATERED DINNER:
Bronx River District has reserved the Headquarters Camp Commissary as Trek-O-Ree
Headquarters, with a seating capacity of over 150 persons. As a convenience to Trek-O-Ree
participants, we are providing a fried chicken catered dinner at 6:00 pm for only $5 per person (separate from the $5 Trek-O-Ree fee). Immediately after dinner will be a campfire, also in the Commissary, which has a rustic stone fireplace.
One of the requirements to earn the trail award is to visit the Ten Mile River Scout Museum at Headquarters Camp. Troops purchasing the catered dinner might schedule their hike so that they arrive back in Headquarters Camp before 5:00 pm. This will give them the opportunity to complete the Museum visit requirement in time for dinner at 6:00 pm


THE HIKE:
The tentative 10.0 mi. hike starts at TMR Headquarters Camp, passes through Camp
Aquehonga, passes by Davis Lake, and Mahl's Pond, ending at Headquarters Camp.
Troops can depart on the hike anytime Saturday morning, but no later than 12:00 noon to
ensure sufficient time to complete the trek before sunset at 6:23 pm.