Jewish Committee on Scouting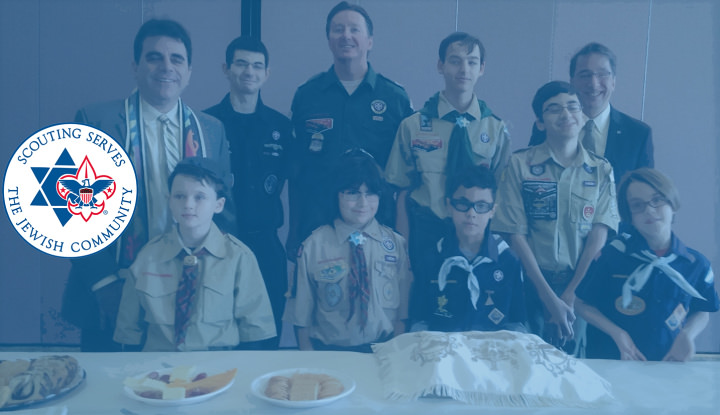 After many months of hard work, the New National Jewish Committee Website has been launched at http://www.jewishscouting.org/.
There's a "store" on the site, and among the things you can purchase is the new 2018 Scout Shabbat patch.
Current NYC Jewish Units:
Pack & Troop 611
Beth-El Jewish Center of Flatbush
1981 Homecrest Ave, Brooklyn NY 11229
(718) 375-0120
Cubmaster – Elliot Poland, epoland3@aol.com
Scoutmaster – Neil Poland, nhpoland@aol.com
Jewish Scouting Emblems and Awards- Read More
NJCOS Eagle Scout Scholarshhip- Read More
The National Jewish Committee on Scouting: www.jewishscouting.org
Have Questions? Contact our Jewish Committee on Scouting Committee Chairs Charlie Kaplan at ckaplan@sillscummis.com and Amy Shapiro Amy_S_Shapiro@uhc.com
Directory of NJCOS contacts:

A Shomer Shabbat NYLT for 2019 —
BSA's National Youth Leadership Training:

'Friends of Shomer Shabbat Scouting' is pleased to announce an opportunity for Jewish Scouts to participate in this premiere Scout training experience.
Scouts who observe Shabbat, Kashrut, and make time for Tefila, can participate in this exciting, action-packed program designed for youth to learn and practice the leadership skills that will help them succeed in Scouting and in life!
·Be a member of a kosher patrol in this Conference with a number of other Scouts following the National Training Syllabus for Junior Leaders.
·There is a maximum of 64 participants in this NYLT conference, and they ALWAYS max out. Sign up now to reserve your place. We will have only one, maybe two, patrols — that's only 8–16 kosher-observant participants.
·'Friends of Shomer Shabbat Scouting' has facilitated this opportunity with the gracious support of the National Capital Area Council. This program will be held June 23–28, 2019 (Sun to Fri) at the American Legion So. MD District Youth Camp, 9201 Surratts Rd, Cheltenham, MD 20623
Note:
§We already anticipate Scouts coming from as far away as Texas and Massachusetts, as well as Maryland, so don't let distance be a barrier!
For the Shabbat before and after this program, Shabbat Home Hospitality will be available in the Silver Spring, MD area.
Requirements:
Participants must:
1. Be 14 years old by June 23, 2019 (or have completed 8th grade).
Note: Limited space is reserved for 13-year-old participants. All 13-year-old participants must contact Mr. Michael Geller in advance. (See contact info, below.)
2. Be a 1st Class Scout by June 1, 2019 if registered in a Troop.
3. By June 1, 2019, have experience serving in a youth leadership position.
4. Complete their home Unit's Introduction to Leadership Skills course.
Note: This should be offered through a Scout's home unit. Ask your Unit Leader how you can participate in this course, or contact Mr. Michael Geller (see below).
5. Have at least a week of summer Scout Camp experience and be comfortable camping and cooking outdoors.
6. Have recommendation of both the Scoutmaster/Crew Advisor and the Troop/Crew Committee.
7. Have a current BSA Health Form (Parts A, B, and C).
8. Commit to attending the entire six-day course.
9. Agree to the 'Code of Conduct for Participants in a Kosher NYLT Patrol'.
(This 'Code of Conduct' is on the website where you register, listed below.)
Note: For 2019, we are not able to offer a 'Kosher NYLT Patrol' to female participants. We anticipate doing so in the future, with an increasing number of qualified female candidates available to fill a patrol for such a program.
WHAT NYLT IS (AND IS NOT)
NYLT is not like summer camp and is not designed for rank advancement or earning merit badges. NYLT is an intense and challenging hands-on leadership training program. It is essential that NYLT participants be physically, emotionally, and mentally prepared to handle the demands of this advanced training. In order to get the most benefit from this unique experience, participants must exhibit emotional maturity, a positive attitude, proficiency in basic camping and outdoor cooking, and have an ambition to serve in leadership roles.
Behavior at NYLT: All participants agree to conduct themselves in accordance with the Scout Oath and Law. Participants in a 'Kosher NYLT Patrol' agree to the 'Code of Conduct' statement as they register on-line.
Cost of the Program:
·Early Bird cost to participate in the Kosher Patrol(s) in this six-day Course is $275 until May 5, 2019, then the cost is $335.
REFUND POLICY
Cancel within 3 days of registration and the entire amount is returned.
After 3 days from registration but not within 14 of the event the customer is charged 15% of the registration cost being cancelled.
Once within 14 days of the event the customer is charged 100% of the registration cost being cancelled.
How to sign up:
Register at: https://ShomerShabbatScouting.org/NYLT2019
Make checks payable to "Friends of Shomer Shabbat Scouting."
Mail your payment to:
Friends of Shomer Shabbat Scouting
P.O. Box 4032
Silver Spring, MD 20914
With any questions, contact:
Mr. Michael Geller at MLGeller[AT]mac.com or 214 802-9332.
--

Dr. Howard A. Spielman
Scoutmaster, Troop 54 & Advisor, Venture Crew 54
Spirit of Adventure Council,
Chartered to the Maimonides School, Brookline, MA and
Contingent Coordinator,
The Shomer Shabbat Contingent to the National Scout Jamboree
'89, '93, '97, '01, '05, '10, '13, '17
Phone: 781 439-5250 (Day and Evening)