Eagle Recognition Reception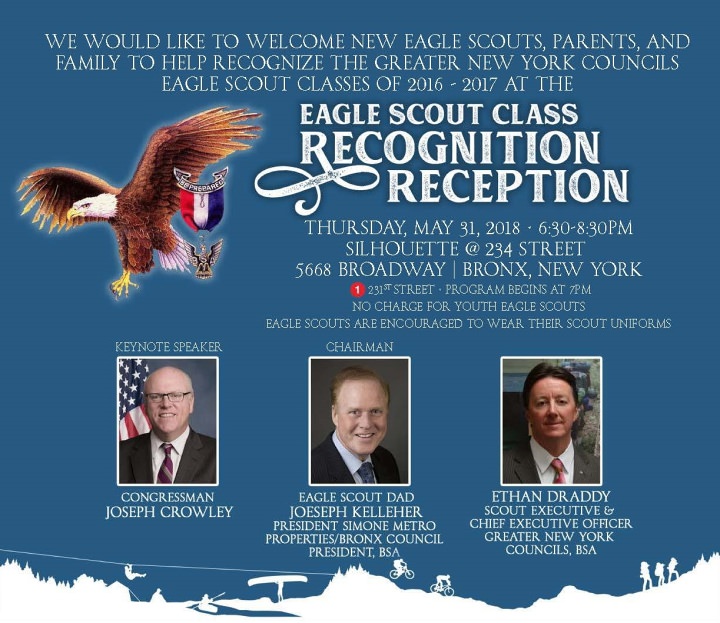 Date/Time:
May 31, 2018 6:30 pm to 8:30 pm
Location:
Silhouette
5668 Broadway @ 233 Street
Bronx, NY 10463

Class of 2017/2016 Eagle Scout Career Recognition Dinner,
The Greater New York Councils would like to welcome new Eagle Scouts, parents and Family to help recognize the Greater New York Councils Eagle Scout Class of 2017 & 2016
All 2017 & 2016 Eagle Scouts in attendance will be recognized by name from the podium during the program. This spectacular event will take place in the Bronx, and is free of charge to the Eagle Scout. Parents, Scoutmasters and other guests are asked to purchase tickets at the nominal fee of $50 each.
The Greater New York Councils can only do this through the generous financial support of businesses and community individuals. The online registration process allows you, your company, service club or Troop to purchase an advertisement or message box in our program book. These proceeds will help offset the costs of this festive occasion. This is an excellent opportunity to recognize all of our Eagles for their achievements as well as support Scouting.
We are privileged that US Congressman Joseph Crowley will be our Keynote. We truly hope that you will join us during this extraordinary event.
Program begins at 7:00 PM
Take the 1 train to 231 Street